Ukrainian Coach's Amateur Soccer Team Lost Chicago Championship, But He's Proud They 'Started To Play For Each Other' 
A professional soccer coach fled Ukraine and ended up in Chicago. His amateur soccer team lost the championship but credited him for fostering a close-knit community.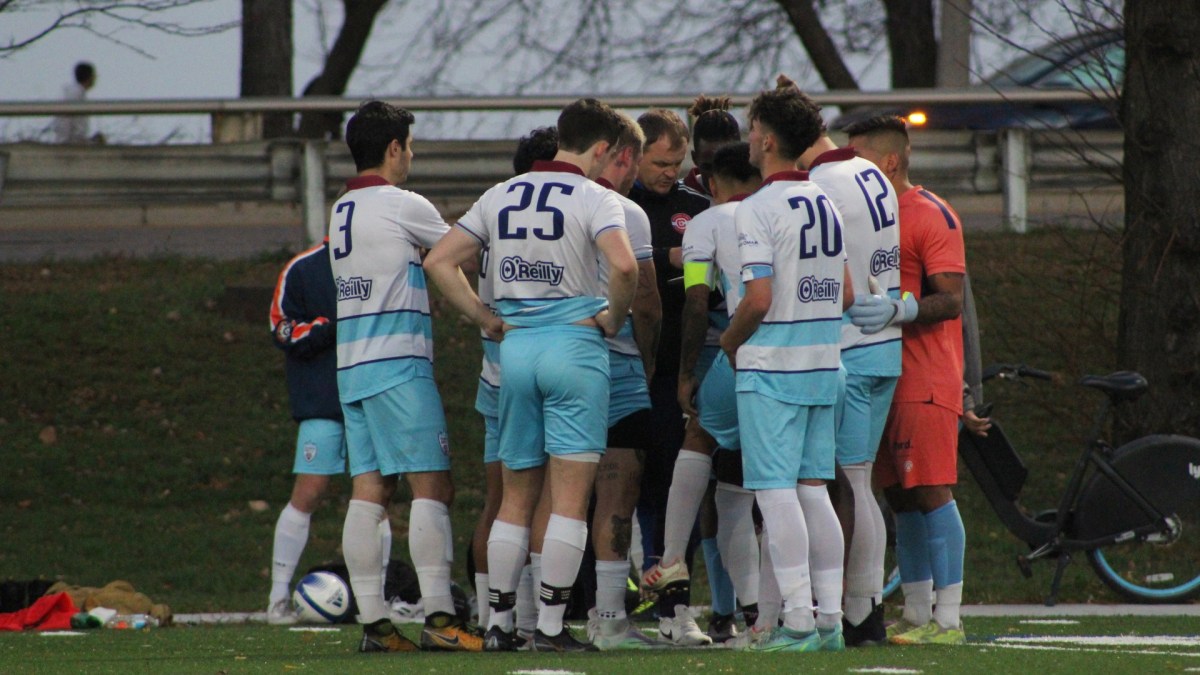 EDGEWATER — There wasn't a storybook ending Sunday night for Andriy Berezovchuk's Edgewater soccer team, which he began coaching after escaping Ukraine and took to a city championship in his first season.
But Berezovchuk and his Edgewater Castle Football Club agree a strong bond has been formed, and he's already looking forward to the spring season.
Edgewater lost Sunday night's championship 3-2 to AFC Roscoe Village in Lincoln Park.
Berezovchuk, a Ukrainian pro soccer coach, and his family moved to the Chicago area earlier this year to escape Russia's invasion of Ukraine. He is starting to rebuild his coaching career as the first paid head coach of Edgewater Castle Football Club, an amateur soccer team formed in 2017.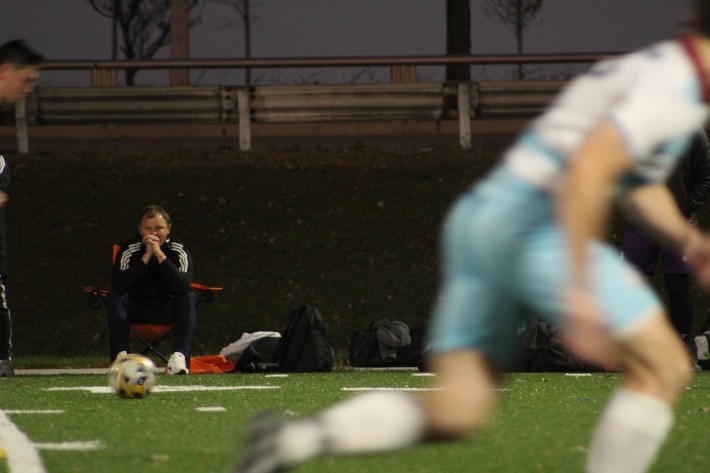 Berezovchuk retired from playing professionally when he was 34. Since then, he's coached amateur and Ukraine Premier League teams and in major European tournaments. In Chicago, he had Edgewater atop of its division, but they lost Sunday.
Berezovchuk was disappointed but proud of the team's closeness, he said. 
"They've started to play for each other and have gotten really good results that way," Berezovchuk said. "One of our players almost scored but didn't today, and all the players around him went to him, saying, 'Don't worry, it's normal. It's just a game.'"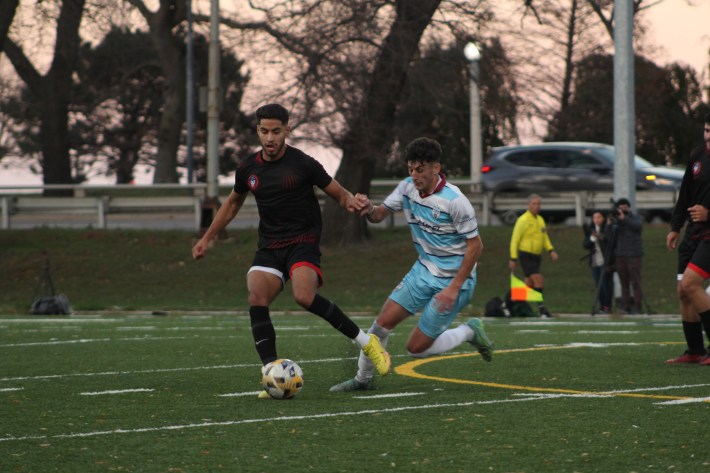 Liam Hettinger, who's been on the team since March, said he and his teammates' "whole moods have been lifted ever since" Berezovchuk started coaching them. 
"We feel so much more connected," Hettinger said. "There's more passing, moving around, more banter in the practices. Everyone's just having more fun, smiling more."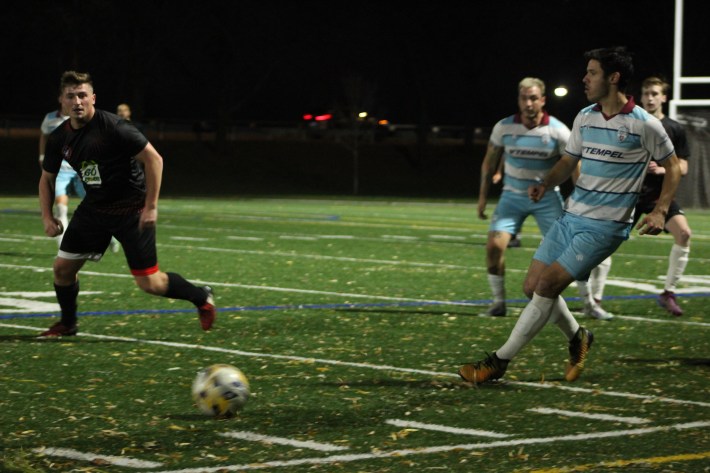 Michael Barshai coaches alongside Berezovchuk and said he bonded with Berezovchuk over their shared love for soccer shortly after he arrived in the suburbs in March.
"He's played on a very high level, and he's very passionate about coaching," Barshai said. "It's interesting for us to have discussions about our different styles and philosophies. He loves what he's doing, and I think it's very good for these guys to work with a coach of his caliber." 
Berezovchuk isn't sure how long he'll be in the Chicago area, but he's looking forward to coaching Edgewater Castle in the Midwest Premier League this spring. 
"We need to move forward and prepare for our next matches," Berezovchuk said. "We did very good work this fall season, and I hope that we became a little bit stronger. In the future, we'll play even better and have more good results." 
Nov. 2022
UPTOWN, EDGEWATER, ROGERS PARK
Ukrainian Pro Soccer Coach Flees War, Lands In Chicago. He Now Has Edgewater Amateur Team On The Cusp Of A Championship
Andriy Berezovchuk played professional soccer in his native Ukraine before a distinguished coaching career that was disrupted by Russia's invasion.
8:04 AM CDT on Nov 4, 2022 Joe Ward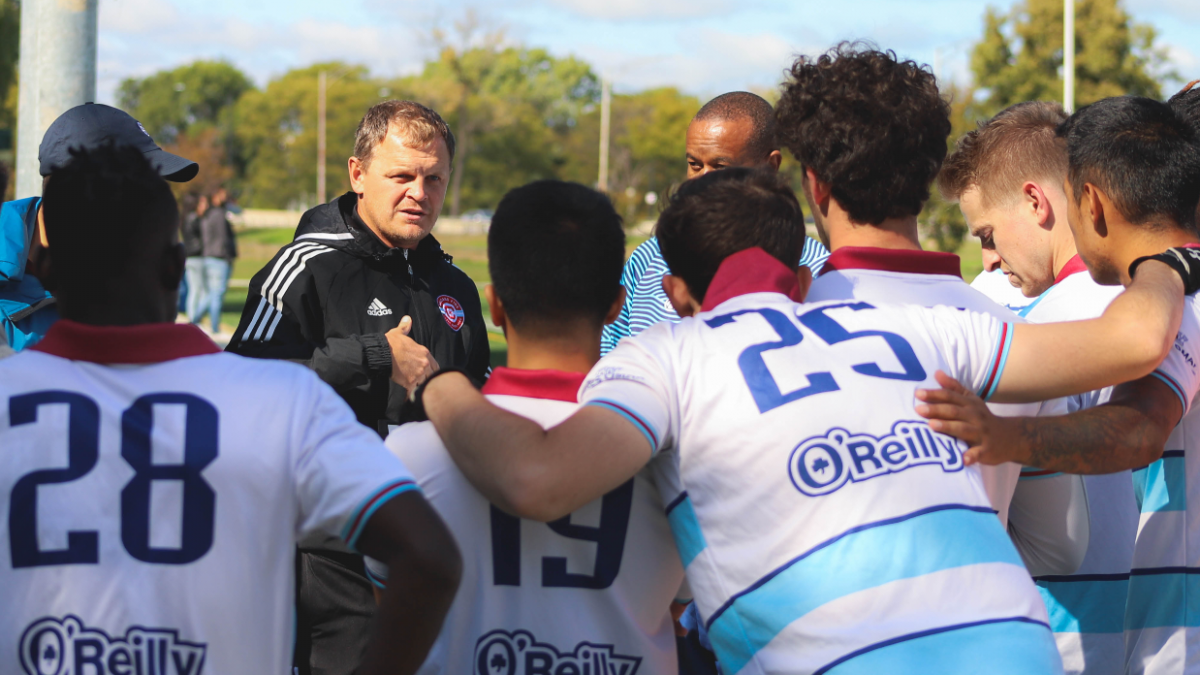 EDGEWATER — Andriy Berezovchuk was leading a training camp in February for the Ukrainian soccer team FC Volchansk when he decided to give his players a break.
Fears of a Russian invasion began to spread throughout the country, and especially in Volchansk, about 2 miles from the border. As head coach, Berezovchuk told his players to go home to their families while the club determined a next move.
Days later, Volchansk had been overrun by Russian troops.
Berezovchuk and his family fled, having time only to pack three bags for two adults and three children. The family went to the capital city of Kyiv before realizing the full scale of Russian President Vladimir Putin's invasion. They kept moving west to Ukraine's border with Poland.
"I saw orange lights," Berezovchuk said. "I thought rain started or something. … When we heard the first bomb, we went and didn't stop."
After 18 years as a professional soccer player and eight years as a coach in Ukraine, Berezovchuk had his personal and professional life upended by the invasion. The family has now taken refuge in Chicago, where Berezovchuk is rebuilding his coaching career and has a local team on the brink of a city title.
"I've spent my whole life in soccer," said Berezovchuk, 41. "I cannot do anything else. I want to be in soccer, and I want to grow and get results here."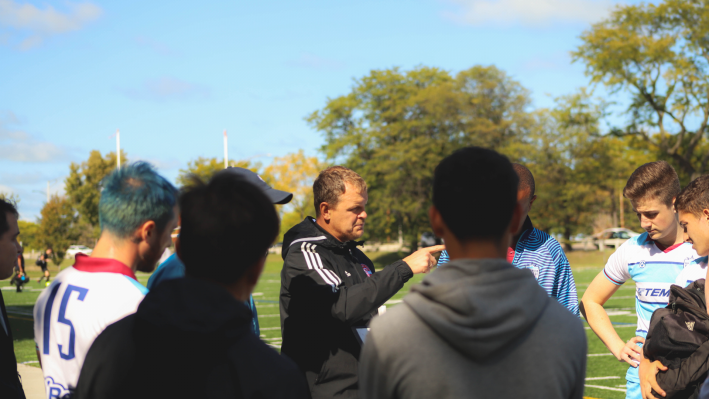 Berezovchuk is the head coach of Edgewater Castle Football Club, an amateur soccer team that formed in 2017.
The nonprofit club has grown over the years, playing its way up into the Midwest Premier League over the summer. But after disappointing results in the higher league, the club sought to make changes, General Manager Andrew Swanson said.
That included a change at coach, but Swanson never expected to land a manager with so much professional experience.
Berezovchuk was at a youth soccer event in suburban Evanston when he met Sami Ismat, Edgewater Castle's tech director. Ismat told Berezovchuk about Edgewater Castle and coordinated a sit-down between Berezovchuk and Swanson.
Berezovchuk scouted the team and liked what he saw. He signed on to coach Edgewater Castle, leading them in the National Soccer League, which plays in Chicago during the fall.
Berezovchuk is the first paid staff or player in club history, a fact that underscores his experience and skill set, Swanson said. Berezovchuk has also been hired as a coach for the Chicago Fire's youth program.
"It was very obvious that he was wildly qualified," Swanson said. "At the time, it was a pipe dream to think he'd coach for Edgewater. We're so fortunate he's willing to put the time in and the work."
After seven matches, Edgewater Castle is at the top of the league standings. With a win Sunday against AFC Roscoe Village, the club would secure its first league title in team history.
Players and the general manager chalk up much of that success to Berezovchuk, who has coached amateur and Ukraine Premier League teams and in major European tournaments.
The success is setting Edgewater Castle up for a rebound in the Midwest Premier League this summer, where the club hopes to make waves against professional teams.
"We have guys, once they go out, they give it their all," said Gabriel Masalu, who has played with Edgewater Castle since its inception. "They have respect for the coach and they listen to him. That's one of the reason we're getting wins."
Edgewater Castle will face AFC Roscoe Village 4 p.m. Sunday at Maradona Field, 141 W. Diversey Parkway in Lincoln Park.
The National Soccer League in Chicago is a far cry from Berezovchuk's heights in Ukrainian soccer.
After turning professional at 16, Berezovchuk retired from his playing career at 34 due to a knee injury. He began coaching, starting first with amateur clubs before moving up the ranks, from sports director of Metalist Kharkiv to head coach of FC Volcanshk.
Berezovchuk has also coached Ukrainian clubs in the Europa League, a tournament of European clubs that is one stage below the prestigious European tournament Champions League.
When Berezovchuk and his family was forced to flee Ukraine, the family settled on coming to Chicago. Berezovchuk had visited the United States a few times, including Chicago. He knew one person here, so it seemed as good a destination as any other, he said.
The family arrived March 7 and stayed in a hotel before moving in with their friend, Berezovchuk said. He met other Ukrainian refugees who suggested they find a cheap place to rent near good schools. The family ended up in suburban Buffalo Grove, from which Berezovchuk commutes to the city to coach soccer.
"Downtown is more close to my life in Ukraine than Buffalo Grove," he joked.
Berezovchuk is not sure how long his family will be in the United States. For now, he is signed up to coach Edgewater Castle in the Midwest Premier League this spring.
The decision will come down to what happens in Ukraine, where Russia is still engaged in a bloody invasion that has claimed the lives of thousands of civilians. Ukraine's forces have made gains in the conflict, including liberating Volchansk, where Berezovchuk was a coach.
"We don't know what will happen tomorrow in our country," he said. "Every day, we call our friends who stayed. It's just terrible.
"Everybody hopes we will win."
Nov. 2022
Professional Ukrainian soccer coach now with amateur team in Chicago after fleeing war
Professional Ukrainian soccer coach now with amateur team in Chicago after fleeing war
CHICAGO - A Ukrainian soccer coach who escaped his country in the midst of war is celebrating his new life in Chicago.  
Just nine months ago, he and his family were forced to leave their hometown, as Russian tanks moved in. 
"We afraid for all the people who stay in Ukraine," said Andriy Berezovchuk.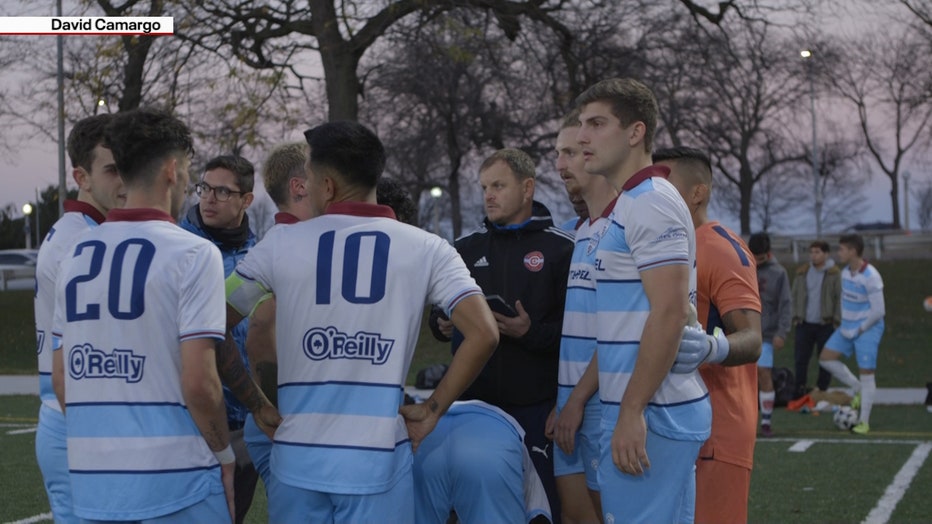 SUBSCRIBE TO FOX 32 CHICAGO ON YOUTUBE FOR MORE CONTENT
On Sunday night, Berezovchuk was on the sidelines, leading a young amateur soccer team, the Edgewater Castle FC, in their first championship title game.  
In February, he was coaching a professional team in Ukraine, just two miles from the Russian border. Then, the war began.  
"It was a couple hours for decision to move and we drive about 14 hours," he said.  
He, his wife and their three children packed three small bags and drove to Poland. From there, they moved to Germany and then the U.S.   
"We afraid for all our people to who stay in Ukraine.  Nobody knows what will be today, tomorrow on in one hour."  
In a twist of fate, he was introduced to the Edgewater Castle Football Club. They needed a coach. He was beyond qualified for the job.
"I'm so happy here. I get a chance, this is what I like and this is what I came to do in my life," he said.  
Berezovchuk led the team this season to the top of the National Soccer League standings. They faced off against AFC Roscoe Village Sunday and lost on a missed penalty kick in the final second of the match. Not the ending the team had hoped for, but what they view as the start to a bright future, with Coach Berezovchuk leading the way. 
March 2021
UPTOWN, EDGEWATER, ROGERS PARK
Edgewater Castle Football Club, A Semi-Pro Soccer Team, Launches Contest For New Team Anthem
"The Rooks" need an original fight song for games. The winner gets a cash prize and free studio time.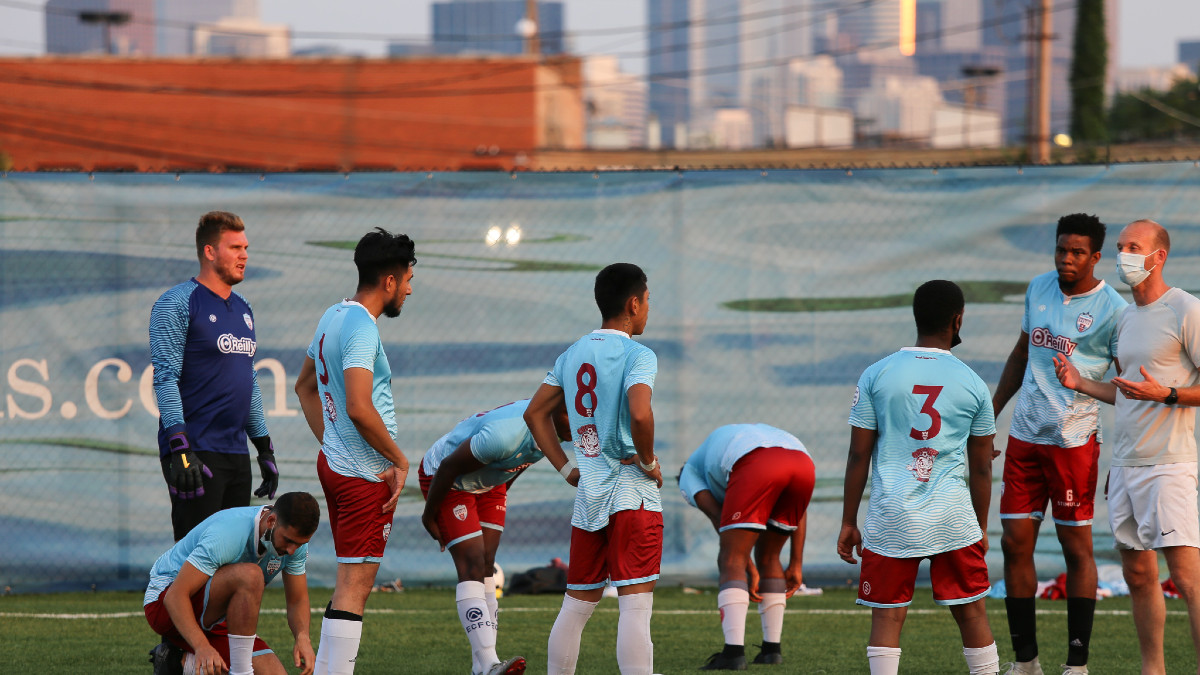 EDGEWATER — Chicago area songwriters and producers have a chance to become part of an upstart soccer club's team identity — and get a cash prize and free studio time in the process.
Edgewater Castle FC, or football club, has launched a contest seeking a new team anthem. The semi-professional soccer team is calling on local artists to submit original songs to the contest, with the winning song becoming part of team tradition.
The chosen song will be sung by Edgewater Castle players and supporters at games and used in club promotional events. The winner will receive a $250 cash prize, four hours of free studio time with a professional engineer at any of Experimental Sound Studio's Chicago locations, a professional recording of the anthem and other prizes.
Entries must be original compositions, and all kinds of music genres and forms will be considered for the contest, said Michael Hamilton, Edgewater Castle's club manager. As the club represents the diverse community of Edgewater, it wanted to place no limits on the types of song entries it receives, he said.
"As quickly as we're progressing on the field, we're really working ward to connect with the community and really reflect the community we represent," Hamilton said. "The anthem for the club is super important. It's part of the team's identity, and it helps unify the fans."
To submit a song, click here. The contest is open Monday-April 8.
The winner will be chosen by a jury composed of club staff, players, sponsors, fans and the club's community owners.
Edgewater Castle FC was formed in 2017 as a nonprofit, semi-professional soccer team. The nonprofit model is not that common in semi-professional sports, which often charge players to join.
Edgewater Castle, whose team nickname is "The Rooks," doesn't charge its players and seeks to make the game more accessible to the North Side's immigrant community, Hamilton said. This year's team is comprised of players from 17 home countries, he said.
This spring, Edgewater Castle will make its debut in the Midwest Premier League, a step up from the Premier League of Chicagoland it has played in since its inception. With the promotion to an upper league, the club is hoping to grow its following in Chicago.
The club plays home games at Winnemac Stadium, 5105 N. Leavitt St. Games have amassed a following, and the club even has its own brass band — Edgewater's Hip Young Gunslingers — to play at games.
"We just want to spread the word and bring the community together through the game of soccer," Hamilton said.
The club has worked to become apart of the community it represents, Hamilton said. It has held soccer camps for 1,200 kids and adults and helped install soccer goals at Swift Elementary School.
A volunteer staffer at the club said it needed an anthem and floated the idea of the contest, having seen a club he follows in Germany do something similar, Hamilton said. Songs and song-based chants are central to soccer culture internationally as well as locally.
"It was so obvious," Hamilton said. "The more we can involve the people of Chicago, we want to be doing that."
For more information on the anthem contest, click here. Edgewater Castle's 2021 season schedule has not been finalized, but it will be posted on the team's website here.
July 2019
Edgewater Castle Football Club builds community through soccer
CHICAGO — "Soccer can be, and is already the binding agent that can draw and hold these unique and beautiful communities together."
It was with these words that Edgewater resident Andrew Swanson embarked on a mission to make the expensive -and at times exclusive- experience of club soccer accessible, inclusive and a service to underrepresented communities in North Chicago.
In 2017, he founded Edgewater Castle Football Club, Chicago's non-profit, community-owned soccer alternative.
"The idea to start a team for the neighborhood really came out of seeing a lot of the talent that's just sort of inherent in what is American culture here, which is sort of a very unique pocket in America as a whole, that this area is incredibly sort of globally diverse," said Swanson, the club's founder and general manager.
"There isn't and has never been a sort of legitimate men's team based in this part of Chicago. We just sort of hope to remain really connected to the neighborhood."
Edgewater Castle has featured over 100 players -predominantly immigrants from all continents- from Uptown, Rogers Park, Albany Park, Budlong Woods, Edgewater and other neighborhoods around Chicago, providing them with the opportunity to compete in organized club soccer and connect with the different communities in the area, Swanson added.
"It's just people from all over the world and people that [speak] different languages, all very much unified by the game, and that on its own, has been the most satisfying thing about it; is that without the game, obviously, and without the club, none of these guys would know each other," said Swanson.
Swanson said that the club has created an environment in which people from different background can coexist.
Beyond the competition on the pitch, Edgewater Castle uses soccer as a conduit for its players and staff to have an impact on the lives of young people in the community through periodic, cost-free pickup games and special community events.
26-year-old Jose Landa, a native of Mexico, Edgewater resident and Edgewater Castle goalkeeper, recognizes the larger impact of the club in his community.
"You're not only part of a soccer team, you're not only part of just the community, but you're part of a club that does more than just playing soccer itself," said Landa.
"You do stuff that's good for other people, not just yourself. It's something to be proud of."
By operating as a non-profit organization —mostly funded by an ownership group comprised purely of community members— Edgewater Castle deviates from the traditional pay-to-play model of local soccer clubs that requires families across the United States to pay anywhere from $2,500 to $5,000.
While Edgewater Castle's cost-free model has yielded results since its inception, the first two years have also brought their fair share of challenges, Swanson recalled.
"Most of the growing pains have been off the field, I guess, in terms of just getting used to the regularity of it, how often we practice, have games and how hard it is to keep people together in any organization," said Swanson.
"You have to keep people inspired and then financially, it's tough. It's tough to run a nonprofit in general. Running a soccer nonprofit for adults is sort of a thing that not a lot of people are used to hearing."
With all the challenges of their mold-breaking concept, the same inspiration and commitment to building community through soccer that led to the creation of Edgewater Castle, continue to be the fuel that keeps this innovative club alive and serving its people.
"The game can really bring people together in a way that not a lot of other things can. We were proven right in that so far," said Swanson.
"So far, this sort of basic concept of that has been really, really strong and has shown us that the game can do that.
March 2019 
Family in Football: the story of Edgewater Castle FC
By Drake Hills
Medill Reports
Soccer in Chicago has a new team. With the lack of soccer clubs in the city, many youth players and aspiring professionals seek the suburban neighborhoods to better their skills and play for nationally-recognized clubs. Not only that, the pay-to-play model has left thousands of potential stars in the shadows as the wealthy represent the local grassroots soccer community.
Edgewater Castle FC is committed to changing both, the locale and financial restrictions to include the heavily diverse neighborhoods it represents and the underrepresented players that live within them. Based in Edgewater, Uptown and Rogers Park, general manager and founder Andrew Swanson has teamed up with director of soccer operations James Kitia and head coach Wojtek Piotrowski to ensure collegiate and professional opportunity for all.